GROWING THE GAME FOR YOUTH, WOMEN & MINORITIES
The USA Basketball Foundation is invested in expanding USA Basketball programming that grows the game beyond the court, so that leaders are mentored in every community, and equity is not only an aspiration, but the standard rules of the game.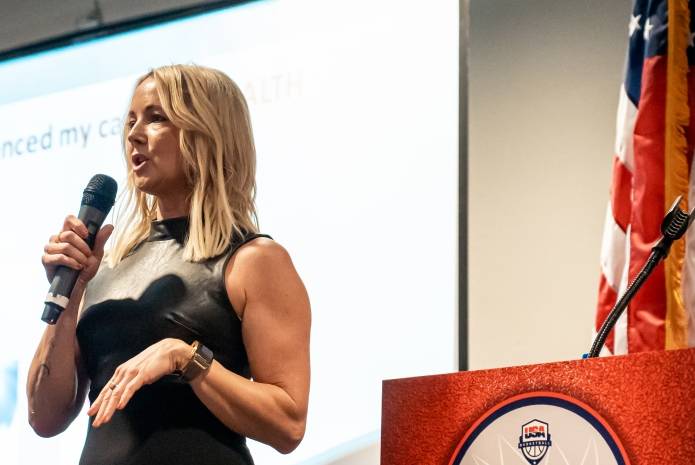 CHAMPIONING WOMEN WOMEN IN THE GAME CONFERENCE
Each year, we sponsor ten young women to attend a full day of networking, training, and programming led by female leaders from a variety of sports business fields. The Women in the Game conference is designed for high school girls, female college students and young professional women interested in pursuing a career in the sports industry.
Learn More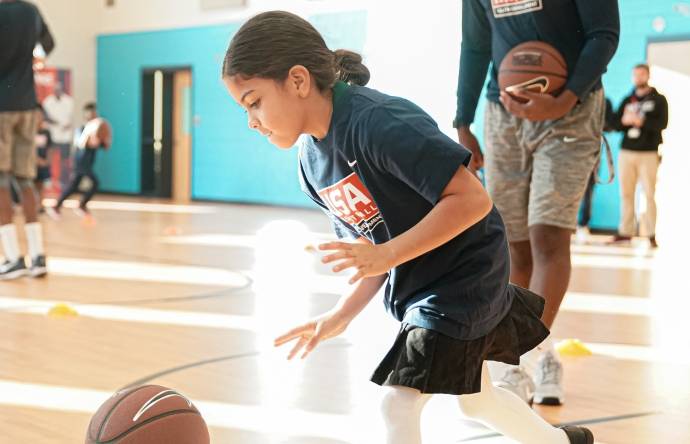 EMPOWERING YOUTH OPENING DOORS FOR KIDS TO FALL IN LOVE WITH BASKETBALL
We see basketball as a training ground for critical life skills – teamwork, confidence and perseverance. We're expanding USA Basketball's youth development programs such as camps, clinics, and open gyms to increase the mental and physical well-being of thousands of young athletes across the nation.
Benefits of basketball for youth from Health.gov:
Lower rates of anxiety and depression
Higher self-esteem and confidence
Increased cognitive performance
Greater enjoyment of all forms of physical activity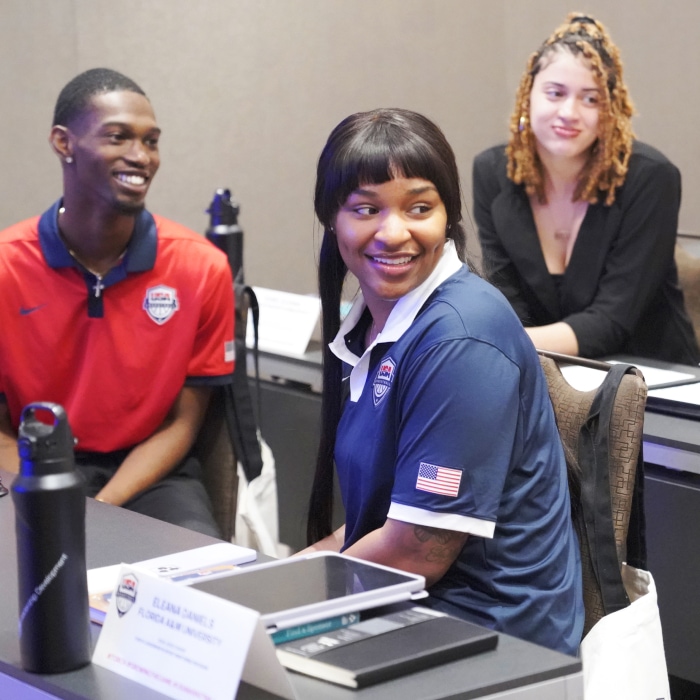 PROMOTING SOCIAL RESPONSIBILITY MENTORING THE NEXT GENERATION OF BIPOC LEADERS
The Torch Leadership in Sport Mentoring Program provides annual opportunities for a select number of ambitious students at Historically Black Colleges or Universities (HBCUs), Hispanic-serving institutions, and Asian American Native American Pacific Islander-serving institutions (AANAPISIs) to experience career development and mentorship for the duration of an academic year.
Learn More
GROW THE GAME
Open doors for young athletes to recover from pandemic-era stress, grow the game for women and minorities by giving young professionals mentorship opportunities, and expand access to the benefits of basketball for every community.
PSST! We're now accepting cryptocurrency. Learn more.
SUBSCRIBE
Sign up to learn how you can support the work of the USA Basketball Foundation, receive updates on our programs, and get opportunities to win exclusive merchandise signed by your favorite athletes!